55,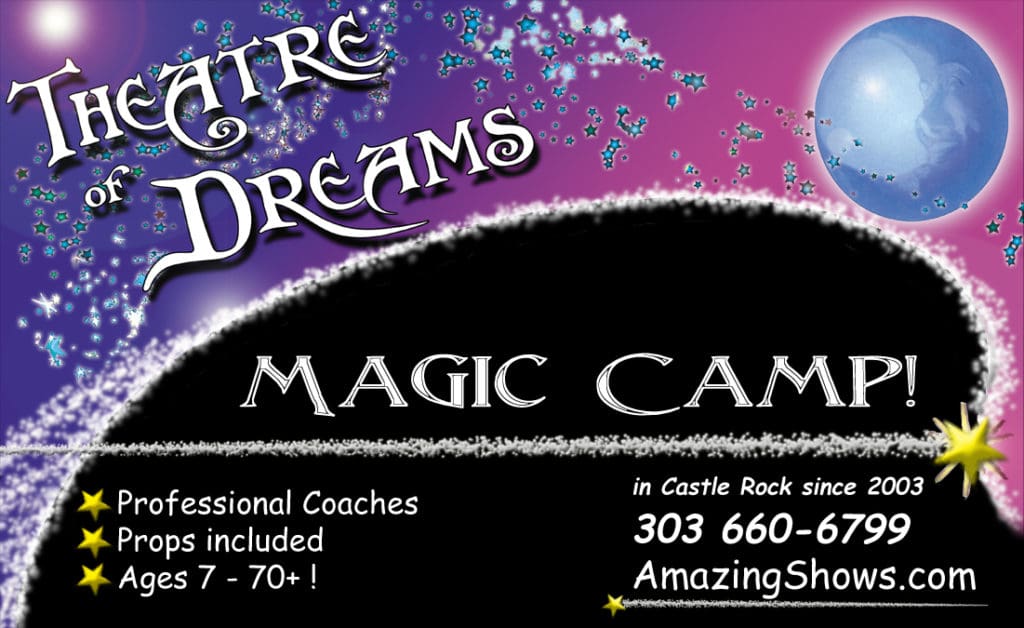 LEARN MAGIC at WIZARD CAMP![/caption]
Day Camp:   ( co-ed half day magic classes)
Learn Magic at Wizard Camp!   (Taught by 2 full time professional magicians, Joe Givan and Carol Massie) 
2023 Summer Dates:  Mondays through Thursdays… June 12-15,  July 10-13   
(additional dates may be added)
Activities include Learning Magic which is excellent for dexterity, self-confidence, stage presence, coordination, creativity & self-motivation. 
Performance skills are emphasized. 
We include a stage recital in a fully equipped theatre on final day of camp for family and friends.
Learn Magic, Illusion, Mentalism, Sleight of Hand and Stage Performance.
AGES: 7 and up!…Girls & Boys – Adults, too!    ( Private Lessons available for advanced students and adults)  
All students will learn stage performance and creativity skills.
TIME:  9:30 am – Noon each day with Professional Recital Stage Show on Thursday at noon for family and friends.
COST:  $195 includes all supplies needed, bag for props, plus Recital Show for family & friends at Noon on the final day! 
To sign up:  Mail $195  check payable to Dream Masterz to:  3721 Starflower Road   Castle Rock, CO 80109  MUST SIGN UP 3 weeks prior! 
OR…can Pay by Zelle…contact Carol @ (303) 660-6799 and she will take your email or mobile number and request the fee from First Bank account.
      Please include the students' name, age and magic experience (if any.)  
Liability forms to be signed by parent or guardian on first day of camp.
WHERE?  Theatre of Dreams    735 Park St., Suites C & D  Castle Rock, CO   80109     (303) 660-6799    
     Note: We will offer cookies and sugar free lemonade on break.    Your student may bring a different snack if desired.
We also teach PRIVATE LESSONS      Call (303) 660-6799 for information or text Carol at (303) 263-9056  
Private lessons are sold in packages of 4  ($150 each) or $600 which must be paid in full upfront upon your first lesson.   Each lesson is one hour +.    We try to fit the lessons within your schedule and we are fairly flexible.    We teach lessons at our house as we have an arsenal of magic supplies and props in our basement studio.   We live in the Meadows Community in Castle Rock which is 2 miles west of the Castle Rock Outlet Stores,  exit 185 ( Castle Rock Parkway)  and I-25.   
Joe is the main close-up magic and sleight of hand instructor.   Carol's joins in the lesson when the student is ready to work on their presentation and performance.   Joe is a creative, skilled, award-winning magician…one of the very best in the world, honestly.  Carol's strength is in staging and movement as well as script writing.  We have only taken on 4 or 5 private students in the past few years due to our busy performing schedule and operating our theatre as well.  Both Carol and Joe have been a professional magicians for about 40 years and they had separate careers prior to joining a s a team in 1993.
See our background at:    https://amazingshows.com/book-dream-masterz/about/
]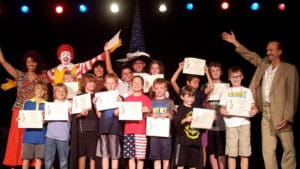 All ages Camp…ADULTS, TOO![
★ ★ ★ ★★    YELP REVIEW :    Shelley S.Castle Rock, CO   ★ ★ ★ ★★    5   STARS     6/14/2012
Our children just attended the Theater of Dreams' summer camp, called "Wizard Camp".  Oh my gosh!

I can not rave enough about Carol and Joe's caring and sincere approach to teaching the tricks of the trade to young students.  They helped our children master illusions that were complicated!  They even had a fantastic performance at the end of the week for all the parents at their beautiful theatre in Castle Rock for all to enjoy.   We have truly found a gem in in this small town! We won't miss a summer without enrolling our children for at

least a week.   What an opportunity!
As a result of this camp, our children are much more comfortable on stage as they speak to groups.  In addition, they aren't afraid of being themselves as they perform magic tricks (ones that they could've never learned on a store bought video or you tube).  Truly an incredible experience orchestrated by owners who are world FAMOUS masters of their craft.
Truly an incredible experience for anyone … and how lucky that our kids get the inside scoop on all the action.   A MUST DO!

Theatre of Dreams   YELP REVIEWS     5  STAR Reviews

★ ★ ★ ★★    YELP REVIEW : 7/2017   Wow, did my kids have a blast, but they were confident and creative onstage at the recital.   What a transformation of the shy son and daughter I thought I have!   I think this will help them in anything they do in life.   Real Magic!   Thank you Carol and Joe.    They love working and learning from you two consumate pros!   –  Nathan

 ★ ★ ★ ★★    YELP REVIEW :6/25/ 2016  As a result of this Wizard camp, our daughter is no longer afraid to get up and speak in front of a crowd.   All the students were encouraged to be creative in the trick they presented magic at the fun recital.  The audience had a great time at this show!   It was great to see adults performing onstage right along side the younger students.   They all were having a great time.   We will be back!   – Paul

 ★ ★ ★ ★★    YELP REVIEW : 7/09/19   How fun to learn magic from 2 truly professional instructors!   It was nice to have instruction sheets to refer to after the classes as reminders of how to do the effect as well as tips on performance in case we forget something.  What a wonderful opportunity! – Dave

★ ★ ★ ★★    YELP REVIEW : 4/2017   I am an adult student aged 45 who decided I would like to learn some presentation skills from Joe and Carol.   and YES, I did accomplish this and more.   They are excellent instructors and really know their stuff when it comes to coaching someone how to do a creative presentation.   Thank you!   I love your theatre shows, also – truly always world class!   Sean
WON "BEST of the BEST"  2009, 2010, 2011, 2012, 2013, 2014, 2015, 2016, 2017, 2018, 2019, 2020, 2021

  FAMILY ENTERTAINMENT &  BEST VENUE!
See our background at:    https://amazingshows.com/book-dream-masterz/about/
WON "BEST of the BEST"  2009, 2010, 2011, 2012, 2013, 2014, 2015, 2016, 2017, 2018, 2019, 2020, 2021,2022

  FAMILY ENTERTAINMENT &  BEST VENUE!