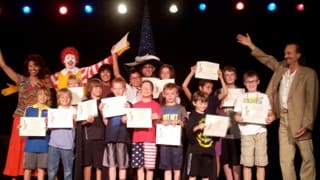 LEARN MAGIC, ILLUSION, MIND-READING,  SPEAKING and STAGE PERFORMANCE!
DAY CAMP:   ( co-ed magic classes)     https://amazingshows.com/learn-magic
INSTRUCTORS:  Taught by 2 full time professional award winning magicians, Joe Givan and Carol Massie https://amazingshows.com/book-dream-masterz/credits-dream-masterz/
DATES:  Mondays through Thurs. – June 14-17,  July 5-8, 2021 (more dates possible)
TIME:  9:30 am – Noon each day with Recital Show on Thursday at Noon.
ACTIVITIES:  Learning magic which is excellent for dexterity, self-confidence, stage presence, coordination, creativity & self-motivation.  Performance and creativity skills are emphasized.  Week culminates with a stage recital in a fully equipped theatre on final day of camp for family and friends.
AGES: 7 and up!…Girls & Boys – Adults, too!   (Private Lessons offered for advanced and adults)
COST:  $175 includes all supplies needed, bag for props, plus Recital Show!
WHERE?   Theatre of Dreams   735 Park St, Suites C & D  Castle Rock, CO   80109     (303) 660-6799   
Note: We will offer cookies and sugar free lemonade on break.    Your student may bring a different snack if desired.
SIGN UP:   Mail  $175  check payable to Dream Masterz to:  3721 Starflower Road   Castle Rock, CO 80109  MUST SIGN UP 4 weeks prior!   Please include the students' name, age and magic experience (if any.)  Liability forms to be signed by parent or guardian on first day of camp.