July 24 & 25 @7:30 pm     $22.50 – $25/ person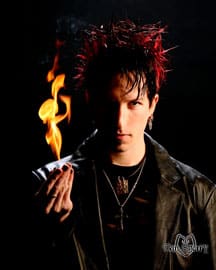 Reservations Required: Buy Tickets online at:    Tickets.AmazingShows.com  or call (303) 660-6799  Credit Cards  accepted.  Non-refundable.  No Paper Tickets.  Free Parking.   Wheel Chair Accessible.  All Assigned Seats.
Dan Sperry is the most popular modern illusionist of his generation.  His fascination with the art of magic began when he was four years old and he performed his first paid show at age 11.  By the time he was 17 Anti-Conjuror™  Dan Sperry was already an internationally recognized champion with honors including being one of the youngest illusionists to headline the famed Magic Castle in Hollywood and shortly thereafter his resume would grow to include multiple appearances on the hit TV series "Masters of Illusion", the youngest illusionist featured in several shows on the Las Vegas strip, tours taking him around the world including France, Italy, Canada, and Greece, he is also the only illusionist to ever be awarded the title of most original magician on FOX's "World Magic Awards."
The Anti-Conjuror, Dan Sperry, 28, left St. Cloud, Minn., and began opening for metal bands with his magic more than 10 years ago. He lives in Las Vegas and has spent three years as one of the Illusionists.
What in an Anti-Conjuror?   Anti-conjuring is a fancy word to sort of approach the style of magician Dan is.  He used to open at Goth clubs for industrial bands, not exactly your typical showcase for a magic show.  When the promoters put him on the flier, he was going for something different. He didn't want them to say magician or illusionist because it would paint a picture, you know, the stereotype of a magician, which clearly, Dan is not!
After spending several years touring colleges and night clubs with an international fan base growing through his social media presence, Sperry appeared on season five of NBC's "America's Got Talent" in early 2010. Receiving millions of views on YouTube, he shocked audiences, captivated voters and sent judges running into the stands with his legendary performance of making a lifesaver appear out of his throat while grossing out judge Howie Mandel. One week after performing on the show, Sperry was one of the top ten most Googled people as fans tried to search out more of his shocking illusions.  The start of a new year brought a whirlwind of change for Sperry as he embarked on his very first solo national tour. Hailed as one of the largest touring magic shows of that time he visited a multitude of U.S. cities and left his mark on the entertainment world which led to his work with the original production of The Illusionists in preparation for its launch at The Sydney Opera House.
In the fall of 2011 Sperry traded in his longtime Vegas residency to call New York City home. Starring in his Off-Broadway headlining engagement "MAGIC SHOW" nightly in the heart of the theater district of Times Square Sperry quickly gained the attention of the mainstream entertainment industry. With high-acclaim from audiences and critics alike it was voted "Best of Manhattan" for 2012 and 2013. Sperry was also awarded the coveted Merlin Award from the International Magicians Society and was bestowed the honor of Most Cutting Edge Magic twice in a row and holds that title to this day.  His show's success even caught the attention of Buddy Valastro and was given an entire episode of his hit show Cake Boss in celebration of Dan's 500th performance.  Dan correctly predicted how his custom cake would turn out before ever seeing it with his sealed prediction baked into the cake and even worked alongside Buddy to have it magically appear on stage in front of a sold-out audience.
While continuing to headline in New York City, Sperry further grew in international acclaim after becoming the first magician to ever be a finalist on German hit "Das SuperTalent," part of the internationally successful "Got Talent" franchise. Receiving record-breaking votes from the show's more than seven million viewers in the semi-finals, he went on to land in the top three of the finals. By that time his success had caught the attention of not only fans but others in the entertainment industry as his expertise in his original brand of Shock Illusion was sought out most recently by the band Jane's Addiction to create illusionary visual effects for their current tour.